September is "National Good Neighbor Month," and in the spirit of this special time, we would like to take the opportunity to share about a unique part of our senior living community - our Memory Care Neighborhood.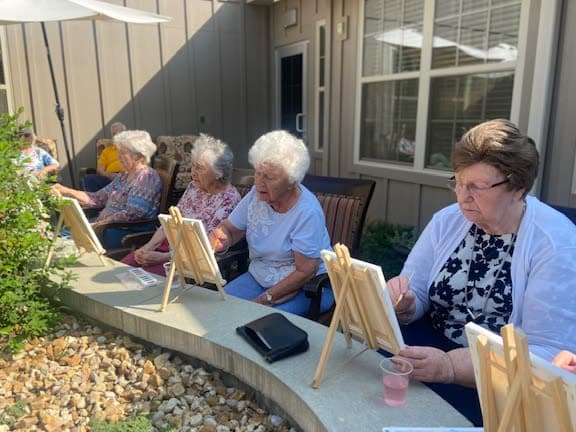 Here at The Castlewood Senior Living we strive to make our Neighborhood a special place, not just for our residents, but for everyone who comes to visit and join in our daily festivities. We celebrate being good neighbors every day.
We call our Memory Care communities "Neighborhoods" because a neighborhood is a community of people who look out and care for each other in a safe and loving way. Our Memory Care Neighborhood is special because we pay close attention to the needs and likes of our residents. We create a safe, calm, and loving environment with fun added in. Our residents are treated like family.
We love to have our resident family members visit their loved ones. We encourage them to participate in activities when they are here. The more the merrier! The staff is always willing to answer questions they might have and help in any way.
September is also Alzheimer's month. There are many ways to support people who are living with dementia. Being a good neighbor means being a good listener, showing kindness, and having compassion for others. Residents with dementia have a need to feel heard and validated. They may not always be able to express their feelings in a clear way but reading their cues and listening to understand are ways we can let them know we care.
We encourage everyone to be a "good neighbor" and find ways to engage and make a difference in the lives of individuals living with dementia. You don't need to have a special talent, just a heart for others around you. If you would like more information about volunteering in a Memory Care Neighborhood near you or if you are caring for someone with Alzheimer's or dementia, we would love to help!